Outpace's winter clinic is the perfect time to review and improve your Freestyle technique as well as your critical swim speed (CSS). Ideal if you are preparing for an upcoming event.
Places are limited to 16. Each participant will receive a video of their stroke at the beginning and at the end of the 3 sessions.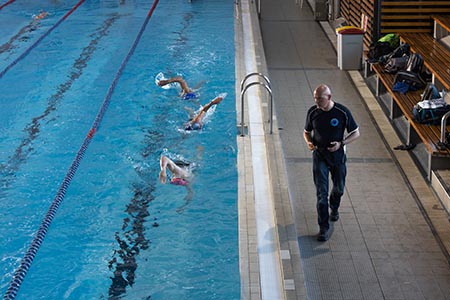 ---
Who's it for?
Recommended for all swimmers (triathletes, open water swimmers, pool swimmers) that can swim a personal best of 2'00 per 100m or faster.
What are the goals?
There are two main goals of this clinic:
Introducing new technical angles and ways of training to swimmers who wish to improve their Freestyle or have plateaued in their training in recent months or even years.
Introducing the concept of critical swim speed (CSS) and how to use this concept in training.
Why should you attend?
As training for the spring starts to ramp up, this a great chance to add some new skills and techniques to your toolbox that will allow you to start the season strong and train with a purpose. It is also an excellent opportunity to get a detailed analysis of the specifics of your stroke and things that you as an individual can do to improve. Moreover, it is a chance to ensure that you are training properly and at the correct speed.
What you'll learn
You can expect to go over the finer points of body position, the catch and pull motion of the freestyle stroke and how to generate more power. Additionally, you will learn how to train more effectively using your CSS.
What will the sessions look like
Technical part:
Throughout the three sessions, we will use progressive stroke drills (isolated movements) to develop each vital element of the Freestyle stroke, such as head and body position, alignment, rotation, breathing timing, recovery, underwater pathways, catch, pull through, acceleration and distance per stroke. You will receive personalized feedback.
Training part:
The first session will include two time trials (400m and 200m Freestyle) to determine your own CSS and different endurance paces for your training. The following two sessions will teach you how to use these endurance paces throughout appropriate send-off interval swim sets.
What to bring
A water bottle and a pull buoy and flippers if you have them.
Schedule & Cost
The clinic takes place at Freyberg pool (Wellington) and will be split into three sessions as follow:
| | |
| --- | --- |
| Monday 12 July | from 6:30pm to 8pm |
| Wednesday 14 July | from 6:30pm to 8pm |
| Friday 16 July | from 6:30pm to 8pm |
Cost: $75 for the three sessions
Book Now
Contact Ben