2023 bookings and details TBC in November
Are you preparing for an Open Water event?
Do you want to strengthen your swimming for a triathlon?
Outpace Summer Clinic is for you!
Fine-tune your technique
Improve your Open Water skills
Build your fitness
Meet new training partners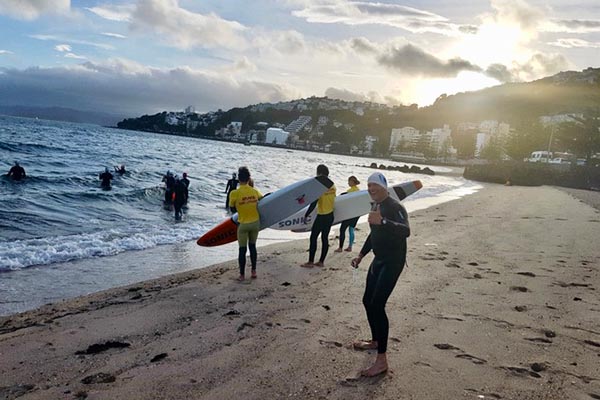 ---
Who
This clinic is for intermediate to experienced swimmers.
Ideal preparation for Open Water events like Swim the Lighthouse Ocean Swim Series and Triathletes who want to improve results in their swimming leg of triathlons.
Please note this is not a learn to swim clinic. Swimmers must be able to comfortably swim a minimum of 800m Freestyle without stopping in a pool.
Minimum age: 18
Schedule
| | | |
| --- | --- | --- |
| Monday 17 January | 6:30-7:45 PM | Freyberg pool |
| Tuesday 18 January | 6:15-7:30 PM | Freyberg beach |
| Wednesday 19 January | 6:30-7:45 PM | Freyberg pool |
| Thursday 20 January | 6:15-7:30 PM | Freyberg beach |
| Friday 21 January | 6:30-7:45 PM | Freyberg pool |
| Saturday 22 January | 7:00-8:15 AM | Freyberg beach |
Important notes:
Weather: If the weather conditions aren't suitable at Freyberg beach, the Open Water sessions will be conducted at Hataitai beach.
COVID-19: If the pool sessions are cancelled due to a change of COVID-19 Alert Levels, Open Water sessions will take place.
Cost
For best results, it is highly recommended to attend all six sessions. This clinic is designed to build skills from one session to the next.
Cost: $96 for the full clinic (includes a FREE Outpace Open Water Swim cap) or $20 per session
COVID-19: Refunds will be issued if the clinic is disrupted due to COVID-19 or where swimmers are unwell and therefore not able to attend the clinic.
Places are limited to 16 swimmers. Book now to secure your place or contact me for any question.
---
Sessions Details
The sessions are a fully structured programme that combines technique, fitness and open water skills.
Pool Sessions (Monday, Wednesday & Friday)
Throughout these sessions, we will use progressive stroke drills to increase power and develop each element of the Freestyle stroke and stroke efficiency.
The fitness sessions are invidualised to your current level and abilities.
Learn and review Open Water skills such as breathing techniques, sighting effectively, swimming straight, drafting techniques and pacing.
What to bring
Pull buoys, paddles and flippers are optional, but good to bring if you have them.
---
Open Water Sessions (Tuesday, Thursday & Saturday)
Tuesday and Thursday session's focus is on building your fitness in open water, practicing how to swim straight, sighting efficiently, breathing technique, drafting, in-water & beach starts, exiting the water and more.
Note: the focus of the sessions will depend on the sea conditions.
Saturday will be dedicated to a longer distance swimming such as 1km or 2km or 3km depending on your level and goals.
We will divide the group by ability to provide the best experience possible for each swimmer.
What to bring
Wetsuit is recommended. Wetsuits, goggles and equipment can be purchased from the Outpace Swim Shop.
It is always good to have the choice of having both tinted and clear lenses goggles for various weather conditions.
Anti-chafing balm or cream can reduce the risk of neck rashes from your wetsuit.